Saturday, March 19, 2022
Live-streamed Event from 10 AM to 10 PM Pacific
The Pentagon attack has fostered a plethora of speculation and theories
in the 9/11 Truth Movement for the last 20 years.
To help us sort through the information, Richard Gage, AIA, has arranged for consecutive presentations in an unbiased setting among the chief proponents of the four major theories.
These researchers will bring you the evidence as they see it and take tough questions from each other as well as from viewers.

This will be an all day, live-streamed event, beginning at 10 AM Pacific.

Open Q&A for audience questions will be held from 8 PM to 10 PM Pacific.

See all the details at https://richardgage911.org/9-11con-the-pentagon.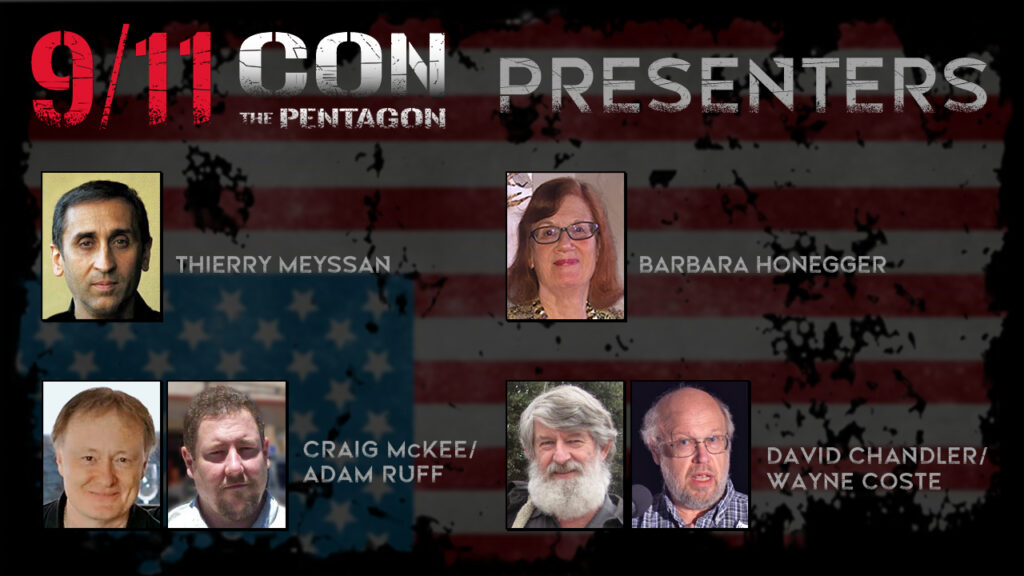 Theory A by Barbara Honegger: Multiple explosions from pre-placed explosives, not due to a plane impact.

Theory B by Thierry Meyssan: A missile struck the Pentagon.

Theory C by Craig Mckee and Adam Ruff: No 757 hit the Pentagon on 9/11.

Theory D by David Chandler and Wayne Coste: A plane with the dimensions of a Boeing 757 impacted the Pentagon.
9/11CON is a fundraiser for the upcoming 9/11 Truth Film Series: "9/11: Crime Scene to Courtroom." See details here.
Make a Donation to Colorado 9/11 Truth!
Colorado 9/11 Truth exists only with your support. Your donation of any amount keeps us active. Visit the donation page on our website here.
Like us on Facebook
Check out our Facebook page here for current 9/11 information, news, and events.