Please note that in Denver we will begin at 6:45 PM.

We will present two films this month.
First, in honor of "Occupy the Courts Day," organized around the nation by Move to Amend, we will show the 15-minute documentary, A Question of Integrity: Politics, Ethics, and the Supreme Court.  (Be sure to join the OTC rally and march in Denver, which will begin at 10:30 AM, Friday, January 20, on the west steps of the Capitol.)
Narrated by actor, director, and activist Edward James Olmos, this film examines the growing concerns about ethically questionable and overtly political behavior exhibited by some Supreme Court justices and explores the need to apply the same ethical standards that govern all other judges in the federal court system as well as those seated on our nation's highest court.  For example, Justices Scalia and Thomas allegedly attended a closed-door retreat hosted by Koch Industries, a corporation that supported and benefited from the Citizen United's decision, which recently dismantled campaign finance laws.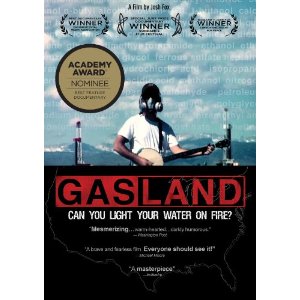 Second, we will show the acclaimed film Gasland (1 hour 40 minutes), which premiered at the 2010 Sundance Film Festival and was awarded the "Special Jury Prize Documentary."  This film exposes the devastating environmental effects of horizontal hydraulic fracturing, commonly called "fracking," a means of tapping shale deposits containing natural gas that were previously inaccessible by conventional drilling techniques used by the oil and gas industry.
Coloradans have become increasingly concerned as the use of fracking has expanded along the Front Range, with thousands of wells planned for areas surrounding the cities of Denver, Longmont, and Colorado Springs, as well as within some of our state parks.
Why the concern?  This is what Gasland makes abundantly clear:
Already Garfield and Weld counties in Colorado, as well as areas of Wyoming, New Mexico, Pennsylvania, Ohio, and Texas, have experienced extreme environmental degradation, a rash of severe illnesses, earthquakes (where none existed before), the use of billions of gallons of water (a precious resource), and loss of property values (some people have had to simply abandon their homes).
In a 2011 study, "Natural Gas Operations from a Public Health Perspective," published in Human and Ecological Risk Assessment:  An International Journal, 632 chemicals were identified in the fracking procedures.  Of these only 353 were well-described in the scientific literature.  Of these, more than 75% could affect skin, eyes, respiratory, and gastrointestinal systems; roughly 40-50% could affect the brain and nervous system, the immune and cardiovascular systems, and the kidneys; 37% could affect the endocrine system; and 25% were carcinogens and mutagens.
Another documentary, Split Estate, is devoted solely to how the health and property values of Coloradans on the western slope have already been devastatingly affected.
If you cannot attend this event, you can watch or buy Gasland online.
In Denver: After the film Sonia Skakich-Scrima, founder of "What the Frack?! Arapahoe," and organizer of an alliance of Colorado grassroots groups, will present on the body of evidence emerging regarding impacts to public health and safety, water, and the environment, uncompensated losses to individuals and local governments, and what we can do about it.
In Boulder and Grand Junction: After the film other speakers (still to be determined) will present on the same emerging evidence.
Fracking is one of the most urgent issues of our day, and if allowed to go unchecked could affect the health and well-being of us all for generations. We urge you to attend and join many of us in Colorado in saying to our officials and the oil and gas companies, "No Fracking Way!"
DENVER
Mark your calendars!  Colorado 9/11 Visibility Video and Action Meetings are held the 3rd Friday of each month in Denver.
When:   Friday, January 20, 2012, 6:45 PM
Where:
Hooked on Colfax Coffee-Books-Community
3213 E. Colfax Ave., Denver (303-398-2665)
(1/2 mile west of Colorado Blvd., between Adams and Steele, on north side of Colfax)
*Admission is free, donations are welcome, and buy a beverage from Hooked on Colfax to support them*
Please observe the parking signs: Steele St., 16th Ave., and Colfax Ave. usually have available parking spaces.
Meeting Timeline:
6:45 – 7:00:  Announcements and introductions
7:00 – 9:00  Videos
9:00 – 9:45:  Presentation and discussion
BOULDER
Mark your calendars!  Boulder 9/11 Visibility Video and Action Meetings are held the 4th Wednesday of each month.
When:  Wednesday, January 25, 2012, 6 PM – 8:30 PM
Where:  University of Colorado, Boulder, Math Building, room 350, third floor, northeast corner
Parking: Paid parking is available on Colorado Avenue or park in CU Lot 359 west of the Math Building and directly across from Folsom Field Stadium.
Directions: From 28th St., turn west on Colorado Ave., go through the lights at Regent St. and Folsom Avenue.  The Mathematics Building will be on your left at the Folsom intersection, although you must proceed west to the parking lots and walk back to the building.  http://www.colorado.edu/parking/maps/documents/main_campus_parking.pdf
GRAND JUNCTION
When: Saturday, February 25, 2012, 9:00 AM
Where: Beans About Beans, 759 Horizon Drive, Grand Junction, CO 81506
Program: DVDs described above will be shown, followed by presentation and open discussion.
Details can be seen at
http://www.meetup.com/www-911TruthGroups-org-grandjunction/events/48038512/
For more information, contact Don Plummer at [email protected].
Some more recent 9/11 Truth efforts:
9/11 Consensus Panel, http://www.consensus911.org/
Citizens 9/11 Commission Campaign, http://9-11cc.org/
One Becoming One, http://onebecomingone.org/

To support the ill first responders, http://www.fealgoodfoundation.com/