TWA FLIGHT 800 is a thought-provoking, 90-minute documentary about TWA Flight 800 to Paris, which exploded on July 17, 1996, just 12 minutes after takeoff from JFK International Airport, killing all 230 people on board. The film features six former members of the official crash investigation who break their silence to refute the officially proposed cause of the jetliner's demise and reveal how the investigation was systematically undermined.
TWA FLIGHT 800 was written, directed, and produced by Emmy Award-winning journalist Kristina Borjesson. Coproducer Tom Stalcup, who holds a Ph.D. in physics and led the film's investigation, spent 16 years delving deeper into the original investigation in order to seek truth and closure for the family members of the victims of this tragedy. In addition to the compelling testimonies of many of the eyewitnesses to the downing of the jetliner, the documentary features interviews with key members of the original TWA 800 Investigation team. These whistle-blowers include:
•    Hank Hughes, Senior Accident Investigator, National Transportation Safety Board, who laid out the matrix for the reconstruction of the entire aircraft and was chairman of the Airplane Interior Documentation Group that reconstructed TWA 800's interior.
•    Bob Young, Senior Accident Investigator, TWA, who oversaw TWA team members of virtually all the investigative groups associated with the crash and was himself a member of the Eyewitness Group.
•    Jim Speer, Accident Investigator for Airline Pilots Association, who sifted through much of the physical evidence in the hangar and found first explosives residue "who sifted through much of the physical evidence and was the first to find evidence of explosives on the right wing."
•    Rocky Miller, Accident Investigator for Flight Attendants Union, who worked in the hangar with Hank Hughes and also worked on Splatter Group.
•    Dr. Charles Wetli, Chief Medical Examiner, TWA 800, who was in charge of crash victim autopsies and identification.
•    Col. Dennis Shanahan, M.D., Senior Medical Forensics Medical Consultant, TWA 800 Investigation, who correlated injuries to plane damage.
After seeing the evidence presented in this revealing documentary, the parallels can be readily drawn between the cover-up operations of 9/11, political assassinations, and other State Crimes Against Democracy, which have all been shrouded in denials and controversy. (This new book exposes State Crimes Against Democracy.) Viewing this enlightening film helps us to see through the veil and further understand the mechanisms that the government uses to create and sustain its "official" narratives.
Similar to what it published about 9/11, Popular Mechanics published a propaganda article entitled, "3 Reasons to Doubt the TWA Flight 800 Conspiracy Theory" in order to distort the evidence and discredit the eyewitnesses. The Popular Mechanics article sounds somewhat "scientific" and "conclusive," but it fails to mention the following evidence:
•    Explosive residues were found on pieces of the wreckage.
•    Key pieces of the aircraft were removed from the hangar and subsequently disappeared.
•    FBI agents had been observed altering some of the evidence in the hangar.
•    The nose-wheel gear door was blown INWARD, shredding the tires and wrecking the cockpit.
•    The debris field was altered by the FBI by their "locating" (re-locating) key parts of the plane miles away from where they were actually found.
•    Multiple eyewitnesses saw a bright object (like a flare or fireworks) streaking up from the surface of the ocean into the sky leaving a white smoke trail, and then a bright white explosion(s) (ordinance), followed by a bright orange fireball explosion (fuel explosion).
•    The FBI refused to release its hundreds of reports of interviews with eyewitnesses who told them what they saw.
•    The FBI prevented the witnesses from testifying at the NTSB public hearing in 1997.
The events related to TWA Flight 800 are another example of how key evidence can be suppressed and kept from the public, and how cover-ups are carried out. This film is another wake-up call. Indeed, every American needs to see this film.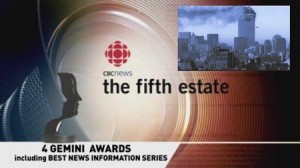 We will also show a 12-minute excerpt from the news report CBC News – The Fifth Estate, a Gemini Awards-winning news series, which featured 9/11 World Trade Center scientific evidence and an interview with architect Richard Gage, AIA.
Remarkably, this 40-minute CBC News report, "The Unofficial Story," covers many aspects of the evidence: the molten iron, nano-thermite explosive residues found in the WTC dust, free-fall speed descent, the 20-ton steel column units ejected 600-feet away, laws of physics, structural engineering, mid-air pulverization, and many more pieces of compelling evidence.
Many Americans don't know that there was/is this level of international news coverage of 9/11 evidence; please share this link to this CBC News report with your contacts and spread the awareness:  CBC – The Fifth Estate – "The Unofficial Story"
Please join us for this very informative and thought-provoking documentary, TWA FLIGHT 800.
————————————————————-
Related websites and articles of interest:
The Flight 800 Investigation – Eyewitness Statements
http://www.twa800.com/eyewitnesses.htm
Was TWA 800 Shot Down by a Military Missile?
http://whatreallyhappened.com/RANCHO/CRASH/TWA/twa.php
Are conspiracy theorists who say TWA flight 800 was shot down right? Filmmakers claim jet that crashed over Long Island, killing 230, was hit by explosions OUTSIDE aircraft.
http://www.dailymail.co.uk/news/article-2344246/Are-conspiracy-theorists-say-TWA-flight-800-shot-right-Flimmakers-claim-jet-crashed-Long-Island-killing-230-hit-explosions-OUTSIDE-aircraft.html
______________________________________
DENVER
Mark your calendars!  Colorado 9/11 Truth Video and Action Meetings are held the 3rd Friday of each month in Denver.
When: Friday, February 21, 2014, 7:00 – 9:30 PM
Where: Hooked on Colfax Coffee-Books-Community, 3213 E. Colfax Ave., Denver  (303-398-2665) (1/2 mile west of Colorado Blvd., between Adams and Steele, on north side of Colfax) (Map)
Please observe the parking signs: Steele St., 16th Ave., and Colfax Ave. usually have available parking spaces.
*Admission is free, donations are welcome, and buy a beverage from Hooked on Colfax to support them*
Meeting Timeline:
7:00 – 7:20  Announcements, Honegger presentation debriefing
7:20 – 8:50  Film
8:50 – 9:30  Discussion
________________________________________
BOULDER
When: Wednesday, February 26, 2014, 6:00 – 8:30 PM
Where: University of Colorado, Boulder, Math Building, Room 350, third floor, northeast corner
*Admission is free, donations are welcome*
Parking: Free parking is available after 5:00 PM on Colorado Avenue or in CU Lot 359 due west of the Math Building (but very competitive when school is in session). Paid parking ($3 flat fee) is available in Lot 360 directly across the street from Folsom Field Stadium.
Directions: From 28th St., turn west on Colorado Ave.; go through the lights at Regent St. and Folsom Avenue. The Mathematics Building will be on your left at the Folsom intersection, although you must proceed west to the parking lots and walk back to the building.  http://www.colorado.edu/pts/sites/default/files/attached-files/UCB_ParkingMap2012-13_WEB_1.pdf
Meeting Timeline:
6:00 – 6:30  Announcements, Honegger presentation debriefing
6:30 – 8:00  Video
8:00 – 8:30  Discussion
________________________________________
GRAND JUNCTION
When: Saturday, February 22, 2014, 9:30 – 11:30 AM
Where: Beans About Beans, 759 Horizon Drive (located by Enzo's Pizza, across from Grand Vista Hotel), Grand Junction, CO (Map)
*Admission is free, donations are welcome*
Program: Details can be seen at  http://www.meetup.com/GrandJunctionInfoCinema/events/162750132/