The will of the voters in NYC to establish a real investigation into the 9/11 attacks was denied, despite NYCCAN heroically meeting each obstacle thrown in the path of their efforts.
A belated but hearty Thank You! to all of you who donated to this cause.  Due to your passion for truth, we sent nearly $4000 to NYCCAN to help with their petition effort and legal fees.  Here is a message from NYCCAN to all of us:
We can't thank you enough for the support you and Colorado 9/11 Visibility
gave all along the way.  We are very disappointed that New York City voters
did not have a chance to create a new 9/11 investigation, but we feel the
campaign was a huge step towards the truth and justice we are looking for,
and so we are carrying the fight onwards.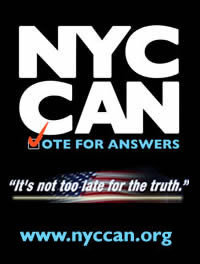 NYCCAN is re-grouping to determine what their next phase will be.  Here is a preview of one of their future efforts:
Right now we are working hard on planning and initiating strategies that we think will make 2010 a huge year.  Among the efforts we are going to undertake will be "Vote For Answers", a national campaign of dozens of ballot initiatives in cities throughout the country; sustained lobbying of the new Manhattan District Attorney; and a civil court action to bring all of the evidence into a court of law under oath so that it can eventually be used by a prosecutor somewhere in the country to open an investigation.
We have hopes that this setback will become the impetus for a stronger national movement toward truth, justice, and real peace.
Once again, Thank You! for your dedication to a real investigation.
Fran, Tim, Michael, Earl, Marti, Dorothy, and Simone
Messages from NYCCAN
1)  Once Again, The Will of the Voters Is Denied
October 9, 2009
Yesterday afternoon, Justice Edward Lehner of the State Supreme Court rubberstamped Referee Louis Crespo's recommendation that the decision to establish a local commission to investigate the events of September 11th not be put before the voters on November 3rd.
After showing interest in weighing both sides' arguments in the hearing, the Judge's short decision gives no indication of having considered the arguments put forth in the Petitioners' memorandum of law, nor any acknowledgement of the need for a new investigation, which the City of New York callously dismissed as "irrelevant".
On a dark day for democracy, the patriotic call for answers by hundreds of 9/11 families, first responders and survivors has been stifled, and the will of the people of New York City once again denied.
Judge Lehner ruled that modifying the petition to make it "legally permissible" would result in it being "inconsistent with the law sought by the signatories of the Petition" despite the fact that all 80,000 signatories agreed by signing the Petition that "If any provision of this law is held to be unconstitutional or invalid for any reason, the remaining provisions shall be in no manner affected thereby but shall remain in full force and effect."
The deadline for inclusion on the ballot falls just before the election, making it possible to appeal Judge Lehner's decision. NYC CAN is weighing all options and will make an announcement early next week on this issue, as well as on how it will be moving forward on other fronts. Regardless of the outcome in court, the quest for answers continues full throttle.  This fight is only the beginning.
[By October 16, 2009, NYCCAN had decided that their chances of winning the appeal were so slim than they could not justify the use of their remaining resources to delay their seemingly inevitable defeat in the Appellate Division.  They saw no positives in continuing the case–even garnering additional media coverage seemed remote.  Thus, they felt it was their responsibility to move on and use the little remaining resources to initiate new, very promising efforts, beginning in 2010.]
Please see the next article for the lessons learned and plans for the near future.
2) The Turning Point
October 16, 2009